Audio Visual Design
State of the Art Solutions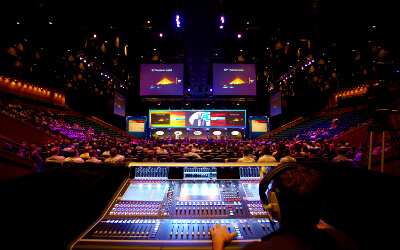 Midland Communications serves the communications and presentation needs of organizations and individuals who must communicate ideas and information – healthcare providers and educators, businesses, salespeople, marketing professionals, hospitality centers and many others. Our highly skilled and certified engineers, programmers, project managers and lead technicians transform customers' needs into state-of-the-art communications solutions.
Applications for AV technology are as unique and numerous as individual ideas and thoughts. New ways to implement that technology are invented on a daily basis. We decipher these new technologies for our clients and apply them effectively.
Midland Communications will fabricate engineer and test solutions so they arrive ready for installation at your business or medical facility. We follow up each phase of integration with quality control and an ongoing commitment to comprehensive system integrity.
Our Commitment to Clients
We will assess your business and communications needs, integrate cutting-edge technology into your existing systems, create new solutions for your future needs and produce results that increase efficiency, revenue, brand awareness and cost-savings.